I've been in this business for over 30 years, and I've seen the good, the bad, and the ugly in convenience stores and grocery stores throughout the country. I know what makes stores GROW and I know what makes them decline or stay stagnant. Do you want to see your year-over-year revenue INCREASE? Then read on! Every month I'll share ONE STEP you can take to make sure that your store is set up for success.
---
STEP 3: Price it RIGHT!

"Come on down!" You know the reference: the Price is Right has turned guessing the price of everyday retail items into the greatest gameshow of all time. Sure the popularity of the show can be credited to the hosts and contestants, but it also comes down to the challenge of guessing the right price. It's a challenge because pricing CHANGES. If pricing always stayed the same, this show wouldn't still be in syndication 49 seasons later. Consumers understand that pricing changes, so it's important as a retailer for you to make sure YOUR price is right.
---
Take a Yearly DEEP DIVE into your pricing.
Here's what you need to do. EVERY YEAR sit down with your Business Advisor and take a deep dive into your menu pricing. Additional adjustments might need to be made throughout the year based on the market and food costs changing, but one deep dive a year can make all the difference. Here are some things to think about:
1. Food Costs. Food prices continue to rise across the United States. In 2020, food prices went up 3.9% and are expected to continue to increase another 2-3% in 2021. One of the main culprits of the increase was the closure of packing plants during COVID-19, impacting the production of beef, pork, and poultry. The cost of wheat, soybeans, and corn also went up. As the cost of commodities rise, the cost of producing the food items you sell increases, and YOUR costs go up. If you don't make pricing adjustments to your menu, your margin decreases and you eat all that additional expense.
2. Labor Costs. Minimum wage is always a hot political issue. At a state level, many states have increased minimum wage this year. Federally, while the recent $15 minimum wage proposal failed, the movement still has momentum.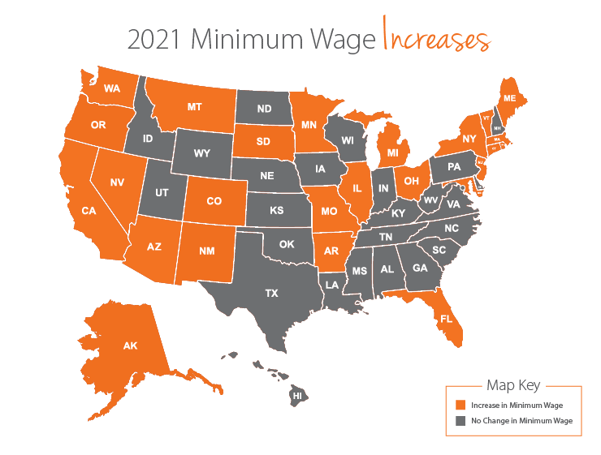 Graph Credit: Paycor
3. Competitor Pricing. Recently at PFSbrands we took a field trip to some popular QSRs to buy and try their chicken sandwiches.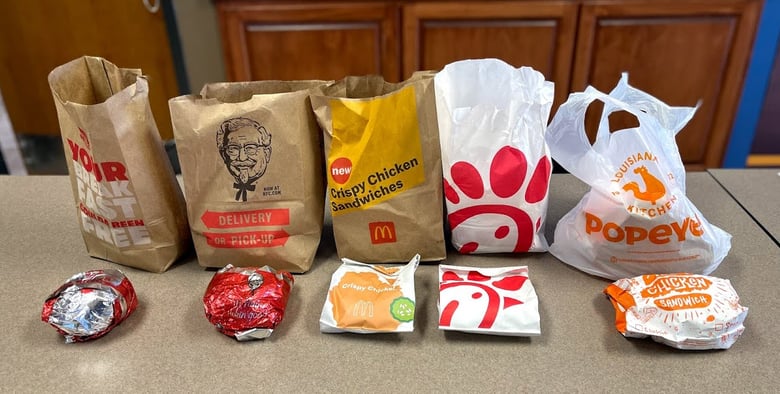 Here's what we paid:
Wendy's Classic Chicken: 2/$5
KFC Classic Chicken Sandwich: $3.99
McDonalds Crispy Chicken Sandwich: $3.79
Chick-fil-A Chicken Sandwich: $3.89
Popeyes Classic Chicken Sandwich: $3.99
Aside from Wendy's promotional pricing (and very mediocre sandwich, by the way), the pricing was fairly consistent across the board. Our recommended pricing for our chicken sandwich is $3.99 to $4.29. Our chicken sandwich is #theRealCHAMP and can take down any of those sandwiches in quality and flavor. Don't be afraid to take your pricing above what local QSRs are doing. Remember that your consumers are also paying for convenience, which brings us to...
4. Consumer Behaviors and Attitudes
Today's consumer is busy. 83% of consumers say convenience in shopping is more important to them now than it was five years ago. Price and quality are still important factors in a purchasing decision, but if you can add convenience as a differentiator you add VALUE to the purchase and should price accordingly.
Take it a step further from convenience and consider SERVICE. Your customers are also paying for the experience. A friendly face, a clean hot case or display case, and prompt attention adds value to the transaction.
Beyond all of that, consider yourself as a consumer. Have you noticed prices going up around you? Have you put gas in your car lately? In the last month, gas prices have gone up approximately 35 cents and could reach as high as $4 this summer. Consumers see the rising costs around them at other retailers and are not surprised by price increases in this post-COVID environment. NOW is the time to assess and make increases when consumers are already expecting those changes.
---
Transition to the NEW Simplified Menu
Across the board QSRs are simplifying their menu. We have created a strategic, simplified menu that factors profitability along with consumer behavior and experience. Take a look at what is value meal 1. The chicken sandwich wars are hot and everywhere you look QSRs (even ones that haven't done chicken before) are promoting a new or improved chicken sandwich. Our recommended menus factor a variety of influences

---
Get Started!
Contact your Business Advisor to set up a time to specifically evaluate YOUR menu pricing.
MDF@PFSbrands.com | (573)-563-0300