Making money and producing favorable margins are important to any business.
As margins seem to keep getting smaller for grocery and convenience industries, foodservice programs can help boost overall margins. To achieve your desired results, this guide will walk you through six ways to help improve your chances of better margins, more store traffic and ultimately increased profitability.

STEP 01. DEVELOPING THE RIGHT MENU
Developing the right menu is crucial to the success of your business. Your menu should reflect the required products needed to run your program successfully, but also reflect your customer base and their expectations.
Be sure to calculate ALL costs when it comes to developing prices and estimating margins. It's important to take into account not just the product and labor costs, but also:
Supplies and Packaging: In addition to branded packaging, also consider supplies such as shortening, gloves, cleaning chemicals, condiments, smallwares, etc.
Shrink Waste: You'll need a system that allows you to build in an adjustable cost to ensure the waste you incur is fully accounted for in your menu retail pricing.
Yield: Ensure that all costs are reflective of ACTUAL sellable product, verses what the original case weight states. Just because a foodservice supplier sells you a 20 lb. case of product, that doesn't necessarily mean you're going to get 20 lbs. of usable/sellable product out of that case.
Analyze your menu pricing along with your sales – what are the top sellers and bottom sellers? In a recent case study of a Champs Chicken retailer, one store increased the price on their top 5 sellers by $0.10 - $0.20 and generated an additional $1,200 in topline sales in just a few months while adding 2-3% on gross profit.
HOT TIP
Be careful when adjusting prices! By changing the price of an item a noticeable amount, you'll be sending mixed messages to your customers and the item's perceived value may also change.
STEP 02. MANAGING WASTE
No successful foodservice program will result in ZERO waste. It's just not possible.
There should always be a balanced focus on continually merchandising enough product to meet demand and appeal to your customers. Without doing so will result in a loss of sales. Luckily, there are several strategies to help minimize the amount of waste you produce:
STRATEGIC MERCHANDISING
In your hot case, whether you're presenting fries, chicken, corn dogs or green beans, it's important to use the proper pans for display. During less busy times, use shallower pans to stock your product. It will still appear stocked and full, but you won't have to cook as much product. Additionally, by cooking less food more often, you'll eliminate wasted product sitting out past its hold time.
THE RIGHT EQUIPMENT
Utilizing the best technology in your cooking equipment pays off in the long-term. Fryers with an autolift basket will ensure consistent, precise cooking every time. No longer will you have a deli associate distracted helping a customer and accidentally overcook a batch of tenders or fries, resulting in lost product. If that happens just a few times a week, that could easily add up to nearly $2,000 in losses annually!
COLD CASE SALES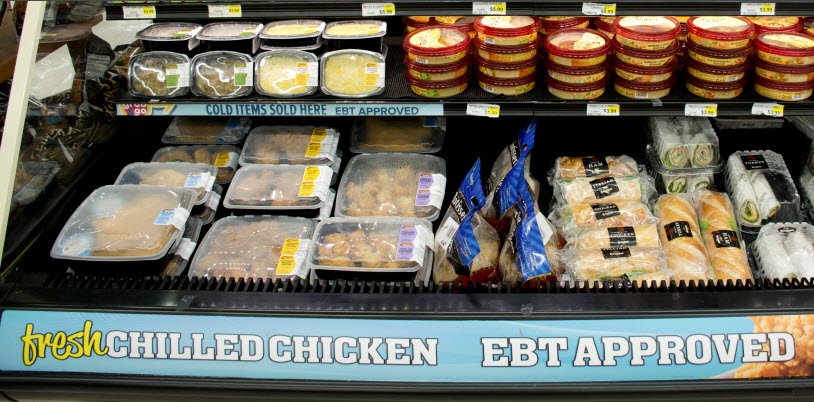 Instead of throwing away your unsold food products, utilize a cold case program to chill, repackage and sell items in a cold case or grab & go section, even when your hot case isn't open! Plus, items in a cold case are eligible for SNAP / EBT assistance programs.
What would $100/day in cold case sales mean?
At a gross margin of 40%, $100/day in cold case sales will produce $14,600 in incremental gross profit annually.
A 5% reduction in waste can generate savings of over $9,000/year.
How closely do you track how much waste you have? Do you know exactly how much waste you produce, each and every day? Ensure you have the program and processes in place to keep a close eye on managing waste to ensure you get the greatest profits.
STEP 03. THINKING BEYOND YOUR HOT CASE
Even if lunch or dinner is your best time of day at your hot case, it doesn't mean you can't gain incremental purchases at other times or in other ways. Consider these creative ways to think beyond the hot case:
BREAKFAST PROGRAM
According to Technomic's Q4 2017 Convenience Store Consumer MarketBrief, 45% of c-store consumers report purchasing breakfast at a convenience store at least once per month. Start your customers' days off right with a simple breakfast program to improve morning traffic and increase daily revenue. You likely won't need additional equipment along with your primary foodservice program to run breakfast. Plus, you can go as simple as breakfast sandwiches that are easy to cook, assemble and serve!
GRAB & GO
Whether hot or cold, grab & go merchandisers can serve your customers even when your hot case isn't open. By serving sides, proteins, and sandwiches in this self-serve format, your customers will love the variety and flexibility to grab what they need, immediately. Be sure to place your grab & go displays in areas that won't disrupt traffic flow, stock them even more during peak times, and ensure to place signage on your deli when it's closed to direct customers to the grab & go options.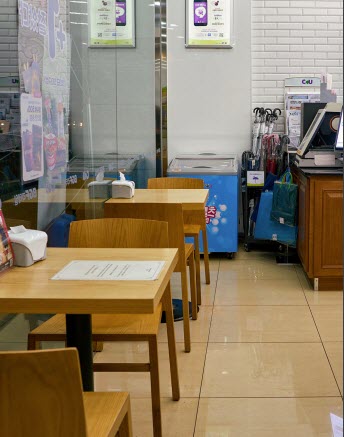 SEATING AREAS
Eating on the go is convenient, but sometimes it's hard to eat a full meal on the go. Help your customers have a nice meal in your store by setting up seating wherever possible: near the windows, outside on the sidewalk, or in a designated area if you have room. While not always possible depending on the square footage of your space, seating areas might encourage passerby's to stop for a meal instead of finding one somewhere else.
STEP 04. DRIVING MORE TRAFFIC PAGE
Getting more people in your door is perhaps one of the most obvious ways to get more sales, but it's not so simple! Luckily there are a variety of strategies and tips to promote your store, products and services.
SIGNAGE, SIGNAGE, SIGNAGE!
Visual stimulation will boost sales and oversized images will help induce hunger. In addition to your menu boards, display large photos of menu items or promotional items in stand-alone cases, wall-mount signs, table tents or signs hanging from the ceiling. You can expand on your visual imagery by displaying outdoor signage in the windows, at gas pumps or sidewalk signs.
SPECIAL PROMOTIONS
Promotions provide an incentive for customers to eat at your store rather than another. A few ideas of promotional strategies include: 5 for $5 or 10 for $10 tenders, BOGO – Buy 1 entrée, Get 1 free, Daily Deals, "Happy Hour" from 2-4pm, Family Pack/ Catering, Sports-related event specials, or Mix & Match specials.
CATERING / COMMUNITY EVENTS
One of the best ways to get your store's name out in the community is by offering catering to local events: whether it's fundraising or feeding the high school football team, any chance you can feed your neighbors delicious food and get your name out there, you'll gain brand recognition which in turn will drive more traffic.
When it comes to marketing strategies, testing a variety of tactics is what will help you understand what works best. What works one month might not work the next; so, stay flexible, attentive and creative!
HOT TIP
Create customer punch cards! This will generate brand loyalty and hopefully convince your customers to return more often. There are numerous websites where you can create and download your own custom punch card to offer specials like Buy 9 – get 10th entrée free!

STEP 05. USING TECHNOLOGY & DATA
Focusing on profit without accurate data makes it difficult to report your margins and take the proper corrective actions. Having a sophisticated system in place to accurately track traffic patterns, inventory levels, product sales and waste will ease the pain of calculating accurate profit margins.
A Point-of-Sales system (or POS) is crucial to track individual purchases, time-of-day purchases, store traffic trends and other foodservice financial data. Being able to access this information 24/7, and on the spot will help you better respond to trends and promotions rather than going back and calculating it by hand.
Along with a POS system, it's important to track the exact customer foot-traffic with a people counter. These pieces of technology include a 3D camera to accurately count all traffic in and out of your store and usually involves easily installation on the ceiling near your doors. The data collected with these devices, along with your POS sales data, helps accurately convey your busiest times - which helps you plan promotions - by tracking food purchases relative to the number of customers in your store.
HOT TIP
The best way to manage inventory is through a software system that connects with your sales system in order to track orders and remaining inventory. Understanding exactly how many items you have left will make your ordering process more efficient.
STEP 06. PROVIDING TOP-NOTCH CUSTOMER SERVICE
Ultimately, you want to ensure every guest who walks in your store has a positive, quality experience. If this occurs, these customers are more likely to refer your business to family and friends, adding to the customer count buying hot food. Likewise, a poor experience deters repeat purchases and negates the opportunity to grow from customer referrals.
It's important to remember that mistakes happen in foodservice, but what's crucial is how you fix those mistakes. Proper team training, education and accountability to execute a service recovery program can make a positive impact on your overall sales and bottom line (and it doesn't cost any money!).
Here are a few tips for ensuring a top-notch customer experience:
Keep your foodservice area clean and full of fresh food at all times
Smile and greet all of your guests as they approach your hot case
Offer product samples or upsell with sides or desserts
Serve your guests promptly and thank them for their purchase
A great customer service program can help save you from losing valuable revenue. If you lose one repeat customer each week due to a poor service experience, that could cost you $20,280 per year ($7.50 average ticket x 52 weeks x 52 customers).
HOT TIP
Set out customer comment cards to gather feedback from positive and negative customer experiences. Review comments with your team on a weekly (or even daily) basis to determine next steps to improve, or recognize those employees who are providing superior customer service.
CONCLUSION
These strategies represent just the tip of the iceberg when it comes to increasing sales, reducing waste, and improving profits. And remember, every store is different and not all methods work for everyone. No program can guarantee an X % increase in sales or profits, but they can prove to you how they have the systems in place to ensure you're setting realistic margins that you're satisfied with.
Of course, another important aspect to making money is reducing the employee turnover you face so that you can spend more of your time managing the business and profits, and less time hiring and training new employees. For more tips on this topic, download our ebook, Solving Your Labor & Staffing Issues: 3 Challenges Every Foodservice Owner Faces and How to Combat Them.
If you need help being more profitable with a foodservice program, consult with a foodservice expert at PFSbrands. We'll help you determine the best path to success that will generate the best results for you, your company, your employees and ultimately provide the best service to your customers.