Sometimes something as simple as a flyer found in a piece of newly acquired equipment can lead to a decade of success. That's how we started working with Rhodes Market, a grocery store in a small rural town of around 700 people. Their pressure fryer needed to be replaced, and their warehouse had one, and when they opened the door, they found a flyer for Champs Chicken and made a phone call.
"From day one, it was the most beneficial phone call I've made for my small store." - Kurt Rhodes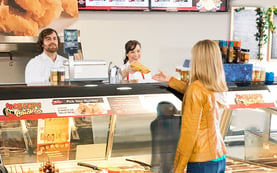 Since then we've been working with Kurt Rhodes and his team, and they've been able to create growth and success with their deli program. Rhodes Market wanted more support from their foodservice program, something they had not been getting. Champs Chicken offered them a chance to change from buying a commodity to being a part of a franchise and something bigger.
Since we started working with Rhodes Market they have had their up years and down years, but have seen growth through their deli department and Champs Chicken year-over-year. With a mix of support and pride, they are building on their success through a variety of factors.
1. Personal Service
With a town of 700 people the opportunity for new clientele is limited, and yet Kurt and his team always find new ways to engage first-time customers. When new customers come in after moving to the area, they take the time to talk to customers and offer them samples of Champs Chicken. With a high-quality product, they can delight customers and create a lasting relationship for years to come.
2. Becoming the Local Stop
Rhodes Market is a destination thanks to Champs Chicken. Local workers from a nearby grain elevator stop by every day for lunch. They have opened up a new revenue stream, allowing customers to use them as more than a place for groceries, and serve as a restaurant to the local community.
After all this time serving Champs Chicken, even in a small town, Kurt knows that he'll have people walking through his doors for lunch and dinner.
3. Training and Visits
A primary goal of Rhodes Market was to find a partner that offered them more support with high-quality products. We work with their team to make sure they have the training and materials they need to be successful, from on-site training to marketing materials. Our business advisor works with them directly and visits periodically to ensure they don't need anything else. We ensure there is no guesswork and they have the expertise to be wildly successful.
4. Buy-In
The key to any new product is that your team of employees understands and likes it, after all, if someone doesn't like a product they won't suggest it to customers. That's not the case here, Rhodes Market's team is bought-in to Champs Chicken, they buy the product, they like the product and the support they get. It's a partnership and not a boxed product to everyone.
We value our relationships with our partners, and always strive to provide our full attention and dedication. We love helping businesses anywhere become more successful, like Rhodes Market. We hope to achieve the same for everyone we work with.