As the economy improves, companies are finding it more difficult to attract and retain quality employees. Why? Simple supply and demand. Job seekers can afford to be more selective as opportunities are plentiful. And, with more jobs available, employed individuals feel secure enough to leave for a better opportunity.
So where, then, can you find high quality employees who are the best fit for your business and more likely to stay longer than the average team member?
EMPLOYEE CONNECTIONS
The #1 source of good hires is the people you or your employees already know. They may be former co-workers, neighbors, family or friends. These individuals are likely already actively working elsewhere and not seeking alternative employment, but when approached by someone they know and trust with a good job opportunity, they are more likely to consider a new possibility.
Studies affirm that employee referrals from your high-performing current employees are the strongest source of candidates. Employee-referred candidates are 3x more likely to be a good match for the job because your employees give these candidates detailed, accurate information about the job requirements and working conditions.1 Your current employees are also selective about who they refer because they know that the person's performance may be directly linked to them.
Furthermore, referred candidates are likely to proceed with the selection process only if they feel the position and company are a good fit. And because they do fit well, referral candidates who are subsequently hired are much less likely to quit or be fired within the first few months and typically perform better on the job than the average employee.
don't ignore those around you
In addition to direct employee referrals, think about who you encounter in your community that provides you good service – your local retail cashier, restaurant server, grocery clerk, fast food counter attendant and so on.
If after encountering someone who exhibits outstanding customer service skills, you thought to yourself, "that person could be a great addition to my team," consider telling the person a sincere thank you and handing them a referral card with your business's pertinent contact information. This simple gesture is a great way to break the ice and let them know that if they are looking for a new or second job, you would love for them to apply with your business.
use referral cards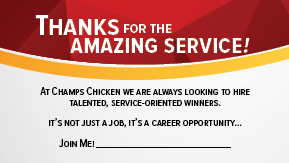 Always carry referral cards with you and give them to people who provide exceptional service or who demonstrate outstanding customer service.
Consider including a discount or giveaway offer to draw the potential applicant into your business or taste your quality food. When someone redeems a card, get the person's name and phone number so you can add it to a database of potential applicants or ask them to complete an application on the spot!
Leaving this card with someone is a tangible way to connect and leaves a physical reminder of your company and how best to reach you if they want to learn more about the job opportunities.
CONCLUSION
If your company does not have a referral program strategy, it may be missing the chance to bring on A-players who can elevate the team and company performance. Consider these simple tactics to recruiting the best employees to ensure a positive experience every time for your customers.
1 "Tailor Recruiting Best Practices for Service-Sector Hiring" article by Roy Maurer, 11/25/15, shrm.org