As a foodservice operator for a grocery or convenience store, food safety practices and FDA regulations can be jarring and intimidating. But, with the right foodservice program and support, anyone can operate a successful and compliant foodservice program.
There are a variety of easy steps you can take to ensure the food you serve your customers is delicious and makes them come back for more. Driving more traffic through your door is the ultimate goal, right?
Let's dive into the first and perhaps most important way to ensure you're set up for success when it comes to serving food your customers will love.
TRAINING & PROCEDURES
Whether you run a small or large foodservice operation, you likely struggle with high employee turnover. This can make it a challenge to maintain consistency in your product quality and customer service. But as long as you have proper training and procedures in place, consistency is much more achievable.
A successful foodservice program vendor will include an Operations Manual with detailed instructions and procedures as well as provide upfront and ongoing training of your employees to ensure they are preparing the food correctly.
Ask up front: what type of training do you provide to guarantee my employees will cook the food correctly and consistently?
Ensure that every one of your employees receives the necessary training to implement your foodservice program. Conduct periodic reviews with all of your staff to remind them of important food safety information and brand standards. Ensure your cooking procedure instructions and safety signage are highly visible. Make sure your employees use cook logs and holding time logs on every shift, every day.
When a new product is introduced to your menu, bring the entire team together and train them on the proper cooking procedures. Also, let them try the product! The more your employees can speak to your customers about the quality and taste of your own products honestly, the better.
DOWNLOAD OUR FREE EBOOK FOR MORE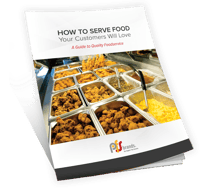 Looking for more tips on preparing food the RIGHT way? We've explored five additional ways to ensure your food is outstanding for your customers. Check out our eBook, How to Serve Food Your Customers Will Love: A Guide to Quality Foodservice.